Thank you - your message has been sent.
Thank you for submitting your query about our Travel Gift Membership! One of our advisors will be in touch shortly.
Are you looking for the perfect gift this holiday season? Treat your friends, family and colleagues to a luxury travel membership. Everyone loves to see the world, and an Andrew Harper membership makes traveling easier and more memorable. Plus, it provides exclusive travel benefits and unlimited travel planning all year long. What does my gift membership include?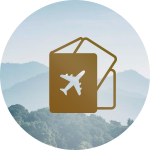 Exceptional travel insights
Explore the world through our eyes with the monthly Hideaway Report newsletter and Andrew Harper Collection guidebooks.

Personalized travel planning
Make every trip unforgettable with one-of-a-kind bespoke travel experiences curated by your own Andrew Harper travel advisor.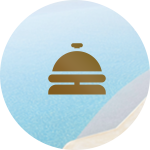 Exclusive status and perks
Access special rates and amenities at over 1,600 luxury properties worldwide, plus additional benefits on cruises, yacht charters and more.
To purchase your gifts, including multiple gifts and multiyear gifts, please call 1 (866) 831-4314
or email MemberServices@AndrewHarper.com.
(8:30 a.m. to 5:30 p.m. CT, Monday through Friday)
Or complete the form below and our member services team will contact you.
Already a member? Click here to send a gift.
Give a Gift
"*" indicates required fields
Andrew Harper members tell it best...
My wife and I recently returned from a three-week vacation in Cambodia, Laos, Vietnam and South Korea. We planned our trip through Andrew Harper, which in turn contracted with your company for local guides and drivers. I wanted to send a note letting you know how pleased we were with each of our individual guides and drivers in those countries. All were courteous, professional, friendly and knowledgeable. At the end of each leg of our journey, we truly felt like we had made lifelong friends with our guides. Please let each of them know that their service was impeccable. As a private business owner, I know how important talented employees are to ensuring the success of your business. These employees exemplify that for your company."
– Andrew Harper member
This was our first experience of Andrew Harper and we can only say that we are sorry that we did not make use of Andrew Harper sooner! We received room upgrades on four occasions and in the other hotels, it appeared as though we had been given the best of the rooms available. We finished our trip with the clear impression that booking with Andrew Harper had made the world of difference to our experience of the trip. We now take every opportunity when we speak of our trip to recommend Andrew Harper."
– Andrew Harper member
This is the 2nd time I have used your travel services as a long time AH member. I have always loved the non biased advice but the travel services were competitive on price; loved the breakfast perk and both times were upgraded to a FAR larger room. (and this never happens using non Harper services) I am slowly coming to the reality that you are the go to spot for personal travel for lodging."
– Andrew Harper member
My travel advisor did an excellent job of putting together a beautiful trip to Florence and Tuscany. Friends accompanied us and she did a great job of working with them on our air itinerary and even the seat assignments for the four of us. Also, she was able to get them the same type of hotel room as us and when we were upgraded so were they. It was a trip of a lifetime and we have much to thank you for."
– Andrew Harper member
We were very pleased and impressed by our final itinerary in both the way it was presented, and the detail contained within. Your responsiveness during our whole planning process was so helpful. We wouldn't hesitate to recommend you to others who may be looking to plan a trip."
– Andrew Harper member
I cannot say enough about the coordination, suggestions, hotel recommendations, flight work and follow through. You helped me create the most memorable driving trip through Germany and Switzerland. The hotel selection was superb, and the Andrew Harper perks allowed us to get upgraded to the most wonderful rooms. Just unbelievable."
– Andrew Harper member